Sarcoma UK hosted events in Houses of Parliament and Holyrood during the inaugural Teenage and Young Adult Cancer (CTYA) Awareness Month to encourage action for young people with sarcoma. Megan Fletcher, Early Diagnosis Officer, explains why we held the events.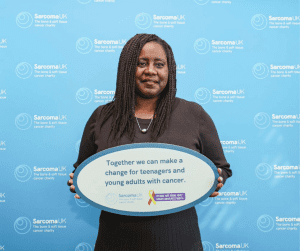 All young people deserve the best chance at beating cancer. However, CTYA sarcomas are diagnosed late and are often missed or mistaken for other conditions such as growing pains or sporting injuries. The later a sarcoma is diagnosed, the less likely someone is to survive. We held the events for MPs and MSPs to understand more about the distinct challenges young people face and with the hope Parliamentarians would work with us to make a difference for young people with cancer. 
The two events, which took place on the 19th and 20th of April 2023, placed lived experience at their heart with moving testimonials from two young people with sarcoma. Ellie Cooper, who was 18, and Beth Keller, who was 22, when they were diagnosed with sarcoma, kindly attended the events to explain the impact sarcoma had had on their lives to MPs and MSPs.  
Staff from Sarcoma UK spoke to 80 MPs and MSPs to tell them about sarcoma in young people and explain the difficulties they face and how these can be improved upon. We explained that it is vital to focus on the following three areas: 
Increasing opportunities for healthcare professionals to be educated on sarcoma, particularly in primary care (like GPs).

 

Educate the public on both the signs and symptoms of sarcoma.

 

The need for better mental health services.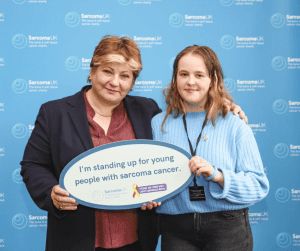 Both events had excellent turnouts, to which we owe a huge thank you to our supporters. We set up an MP and MSP emailing tool whereby you entered your postcode and a letter to your MP/MSP was generated. An extraordinary 631 emails were sent to MPs and 422 emails were sent to MSPs. Every single one of the 65 MPs and 15 MSPs that attend the events now has a deeper understanding of sarcoma in young people and how to improve outcomes for this group.  
We had specific asks for the MPs in England and the devolved nations, as well as MSPs. We asked them to post about the drop-ins on their social media and share a press release in their local newspaper to raise awareness of CTYA sarcomas and to write to their constituency's health board or trust to ask what they are doing to improve CTYA sarcoma diagnosis in primary care and promote our education tools. We also asked them to write to their Health Department to ask what they are doing to improve early diagnosis and protect the mental health of young people diagnosed with sarcoma.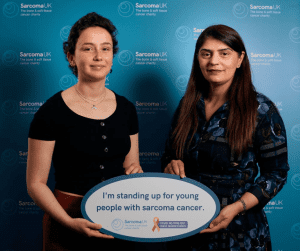 Further to this, we have created two resources to increase healthcare professional and public awareness, which will hopefully improve outcomes for people with sarcoma. We worked with GatewayC, a free online cancer education platform, to develop a module to educate GPs on the signs and symptoms of sarcoma in the hope to improve early diagnosis, increase sarcoma survival, and enhance patient experience. The module is accredited by the Royal College of General Practitioners, which is important as it means that GPs will be able to count it as professional training.  
Additionally, one of the symptoms of sarcoma is a growing lump, and over the time period before referral, visible lumps can change significantly. However, it is not uncommon to see multiple different healthcare professionals in this time, and they may not put this into their system. With no standard way of measuring lumps and bumps, any measurements recorded by professionals may not be measured in the same way. We have created a resource to help patients measure and track a visible lump. This will give them information and pictures to show their GP, enhancing their chance of referral for further tests where necessary. It is important to remember most lumps and pains are not sarcomas.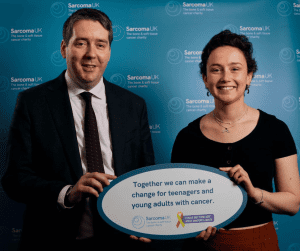 In summary, the events were a great success with 80 MPs and MSPs now knowing about sarcoma and understanding how to improve outcomes for young people. We owe a huge thank you to our supporters for using the tool and helping to maximise attendance, as well as to Ellie and Beth who kindly gave up their time to speak to MPs and MSPs about such a sensitive topic. It was also encouraging that so many MPs and MSPs attended, we are hugely grateful to the elected representatives that are dedicated to improving outcomes for young people with sarcoma.
If you're a healthcare professional in England and want to know more about sarcoma, you can register for this course by visiting: gatewayc.org.uk/courses  
If you have a lump or want to know more about sarcoma, you can find the resource here.