Detailed information about 84 subtypes of soft tissue sarcomas has been described for the first time, posing positive implications for people affected by sarcoma.
The study, led by researchers at University College London, analysed data about people diagnosed with a soft tissue sarcoma in England between 2013 and 2017. They explored factors such as incidence (how many people have been diagnosed), age at diagnosis, the route people take to having their sarcoma diagnosed, survival, and differences due to social deprivation.
New and positive findings
The analysis found that there were 19,717 people diagnosed with soft tissue sarcoma in this period – over 3,900 a year. Soft tissue sarcoma makes up 0.8% of all cancers diagnosed. The research also uncovers new data on ultra-rare sarcomas, such as epithelioid sarcoma and alveolar soft part sarcoma, many of which have never been described in detail.
The study, published in the International Journal of Cancer, reveals lots of new and positive insights. For example, it suggests there has been an improvement in diagnosis for sarcoma compared to previous reports. The term 'not otherwise specified' (NOS) is used when there is too much uncertainty to make a specific sarcoma subtype diagnosis. This analysis describes just 7.2% of sarcomas as NOS, down from 20% in similar data collected between 1996 and 2010. This is likely due to advancements in molecular diagnostic tests and more specialist sarcoma pathologists, improving the accuracy of diagnosis.
The paper also reports for the first time that social deprivation has an impact on prognosis for sarcoma. People living in more deprived areas of the UK are more likely to have a poorer outcome from their sarcoma and are also more likely to be diagnosed after coming into A&E. Cancers diagnosed this way are often more advanced than those caught by GP referral or screening. Although these are worrying findings, understanding people's different routes to diagnosis means that service providers can work to make treatment more equitable and accessible for everyone with sarcoma.
The importance of data
Until now, there has been very little data available about incidence and survival of soft tissue sarcomas. The NHS collects data on everyone who is diagnosed with a sarcoma in England, including factors such as where the sarcoma is in the body, treatments and outcomes. This data is then collated by the National Cancer Registration and Analysis Service (NCRAS). Good quality data can help the clinical and research communities to improve diagnostic and treatment pathways for people with sarcoma – especially because each subtype of sarcoma can behave so differently.
Dr Sorrel Bickley
, Director of Research, Policy and Support said:
"There's been a very limited amount of sarcoma data available for a long time, so we're delighted to see such impactful findings from this study. We now want to see these results taken forwards to improve the care and treatment for sarcoma patients."
Find your subtype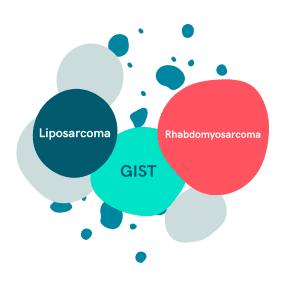 If you want to find out more, we've put together an interactive dashboard with all this data, broken down by subtype. It also includes other key findings from the study, including survival statistics for all subtypes of soft tissue sarcoma.
Find your subtype on our interactive dashboard here.
You can also read the full scientific analysis here.
Moving forward, the team are working on a similar analysis of bone sarcoma. This work is being funded jointly by Sarcoma UK and the Bone Cancer Research Trust – read more here.