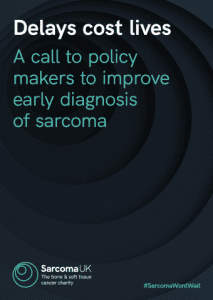 Publication Date: Tuesday, September 8, 2020
Delays Cost Lives highlights how poor awareness of symptoms among the public and healthcare professionals, made worse by a complex diagnostic pathway, means that sarcomas often go misdiagnosed or are simply ignored and dismissed.
Early diagnosis aims to catch cancer sooner and reduce the number of patients who are diagnosed at a later stage. It is commonly accepted that Stages 1 and 2 are considered to be early stages, as the cancer has not spread to anywhere else in the body. Once the cancer has spread then chances of survival significantly decrease and is less likely they will have the chance of a complete cure.
In June 2020, we released an interim report – Demand Early Diagnosis, Save Lives – which pledged to take action to improve early diagnosis. The interim report highlighted three key themes: public awareness, healthcare professional knowledge and the quality and efficiency of scans and referrals.
Delays Cost Lives signifies the first big step to improve early diagnosis for sarcoma. We will passionately work towards the goals it sets out so that all patients with sarcoma are diagnosed as early as possible, giving them the best chance of survival.
Read the full report: