Chris Martin, principal private secretary to David Cameron, died of sarcoma in November 2015.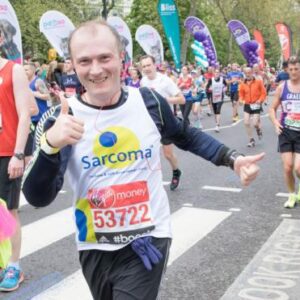 The Chris Martin Fellowship was set up in memory of someone who was a true Sarcoma UK friend and supporter, a keen advocate to raise both funds and awareness to help everyone affected by the cancer.
Since launching, the fellowship has been the crucial cornerstone for Sarcoma UK to lay the financial foundations of our Genomic Research Programme. Formally launched in July 2019, the research programme aims to bring together the top minds in cancer research to find answers to the most fundamental questions about sarcoma.
It's recognition of the role that genomics, the study of genes, has in our understanding of this complex cancer. We hope that research funded through the genomics research programme will identify the causes of sarcoma and lead to the development of a test, so patients can be screened or diagnosed earlier and even lead to more drugs to treat sarcoma, through repurposing existing drugs, or by providing the data to allow the development of new sarcoma drugs.
Thanks in part to the funds raised through the Chris Martin Fellowship, the research wheels are already in motion. Sarcoma UK has already awarded £250,000 to the Sarcoma Genomics England Clinical Interpretation Partnership (GeCIP),  a major piece of collaborative research at University College London that has brought together 35 scientific experts from across the UK to investigate 1,000 genetic sarcoma samples collected from the Government's 100,000 Genomes Project.
It's this kind of forward thinking research that will help drive us closer to new treatments and eventually a cure for sarcoma. Much has already been achieved already thanks to a number of fundraising events for the Chris Martin Fellowship, but so much more needs to be done.