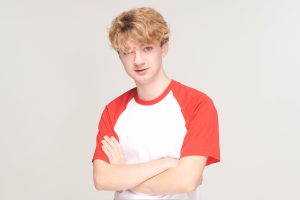 Today, 12 July, national cancer charity Sarcoma UK are delighted to announce YouTube ​and Twitch ​sensation TommyInnit as their newest celebrity ambassador.
YouTuber TommyInnit, 19, who boasts an enormous 24 million​​​​​ subscribers​ across his four YouTube channels and tens of millions more across other social media sites​, was inspired to support Sarcoma UK's work following the tragic loss of his friend and fellow content creator Technoblade.
Technoblade, a popular American YouTuber who rose to fame through livestreaming the video game Minecraft, revealed in August 2021 that he had been diagnosed with stage-four sarcoma, a less common type of bone and soft tissue cancer that can affect any part of the body.
The online star, who revealed his real name only as 'Alex', underwent chemotherapy, radiotherapy, and a limb salvage operation after developing a painful tumour in his right arm. But sadly, the 23-year-old died in July 2022.
'Technoblade will always be my hero'
In a final video shared with his ten million followers and written just hours before his death, Technoblade thanked his fans for giving him the 'happiest years' of his life. The video has since been viewed a staggering 9​8​ million times online.
Around 15 people are diagnosed with a form of sarcoma cancer every day in the UK, and following Technoblade's death, TommyInnit has raised more than £170,000 to fund Sarcoma UK's life-saving work.
TommyInnit, whose real name is Tom Simons, has kindly donated​​ all ​of his share of ​advances and royalties from his Sunday Times bestselling book TommyInnit Says…The Quote Book.
In the aftermath of Technoblade's death, fans of the YouTube personality have also donated nearly £3,000 directly to Sarcoma UK.
As an organisation, Sarcoma UK relies solely on generous voluntary donations, and the energy and imagination of tireless fundraisers and supporters.
Speaking of his new role as a Sarcoma UK celebrity ambassador, TommyInnit said​​ 'Technoblade was one of the coolest people I've ever known. He was the king of the Minecraft community, and when he told me about his diagnosis, it didn't feel real.
'It was the biggest honour I've ever received to go from being one of his biggest fans, to being one of his mates. With every stream he joined, and every video he was in, he lit up the entire room​.​ We were the gang, and he was and always will be, my hero.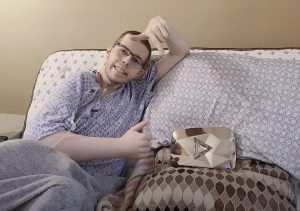 'I'd never heard of sarcoma cancer until Technoblade [pictured] was diagnosed and I'm heartbroken that he's gone. It's a rare cancer and it's difficult to spot the signs, so I want to help Sarcoma UK raise awareness and save lives in the future. I'm proud to be helping their mission to fund new research and offer people support, and I'd like to thank my amazing fans for their contributions too'
Richard Davidson, Chief Executive of Sarcoma UK, said 'We are honoured that TommyInnit has chosen to remember Technoblade in such a powerful and positive way by becoming Sarcoma UK's newest celebrity ambassador. Sarcoma UK doesn't receive any funding from larger charities and all our research, support and information for the sarcoma rare cancer community is because of the generosity of people like Tommy.
'There are around 5,300 people diagnosed with sarcoma each year on the UK, and our thoughts are with Technoblade's family. We are incredibly grateful to Tommy and his fans for their generous donations, which will help us do more vital research into improving outcomes for people living with this rare cancer.'