London/Dublin based siblings, Isabelle and Nick O'Keeffe, are set to climb four peaks in 48 hours to raise money in memory of their brother, Phil O'Keeffe.
The challenge in four different countries across the UK and Ireland will benefit Sarcoma UK, and will mark the end of Sarcoma Awareness Month this July.
'Phil would have wanted his legacy to help others,' says his sister Isabelle.
Phil died from sarcoma in January 2022, aged 28, just 16 months after his diagnosis. Originally from Dublin but living in London, the young man was diagnosed with an alveolar rhabdomyosarcoma, a rare form of sarcoma cancer, in 2020.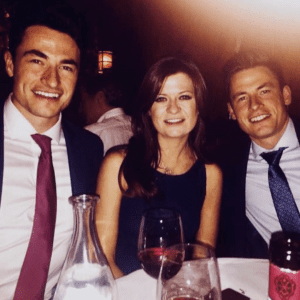 He underwent treatment, including nine rounds of chemotherapy and radiation therapy, at University College Hospital Macmillan Cancer Centre. Just three weeks after treatment finished, a scan showed that the cancer had spread.
Phil had more treatment in London and in Dublin, which was unfortunately unsuccessful. He returned to his roots in Ireland in December 2021, spending his last Christmas with his family and loved ones, before he died in January 2022.
'Phil will be remembered by all of those who knew him for his infectious smile and booming laughter. He was a pleasure to be around, and we miss him every day,' say siblings Isabelle and Nick.
'Sarcoma UK is our chosen charity as Phil was diagnosed in the UK, and the majority of his care was in the UK.'
'We want to raise money to help further research into this rare disease and provide resources and means for those fighting this cancer.'
'We feel that providing funding to Sarcoma UK will better serve people from Ireland, the UK and further afield.'
The challenge involves the siblings and friends climbing four peaks across the UK and Ireland in 48 hours, from 29-31 July.
The four peaks are:
Carrauntoohil, in Ireland – (1038m)
Ben Nevis, in Scotland – (1345m)
Scafell Pike, in England – (978m)
Snowdon, in Wales – (1085m)
Isabelle and Nick are set to document their challenge via a video diary, on their social media channels and via their GoFundMe pages, where you can also donate at https://www.justgiving.com/fundraising/Isabellespage25 and https://www.justgiving.com/fundraising/philokeeffe.
You can also track Team O'Keeffe's progress at fourpeaks.online where their live location will be updated on the map every five minutes between Friday and Sunday.
All funds raised by the challenge will go directly to Sarcoma UK.
This Sarcoma Awareness Month, Sarcoma UK is spelling out its intentions to get people diagnosed earlier and have better treatment options for life with and beyond bone and soft tissue cancers.
Would you like to get involved and raise funds for Sarcoma UK?
We are organising an overseas Northern Lights Winter Trek this winter. You could discover stunning scenery whilst trekking in southern Iceland, as you trek through a striking mix of geothermal valleys and beautiful mountain scenery, streams and waterfalls.