'Cometh the hour, cometh the man.'
'Cometh the hour, cometh the man.'
Richard Whitehead, Sarcoma UK's first Patron and long-term supporter, had never run a mile when he first met his close friend and mentor Simon Mellows.
He won the gold medal in the 200m T42 Athletics event at the 2012 Paralympics. In 2013, he was appointed Member of the Order of the British Empire for services to athletics and became Sarcoma UK's first ever patron. For his Richard Whitehead Runs Britain campaign, Richard ran from John O'Groats to Land's End, or 40 marathons in 40 days. He holds the world record for athletes with a double amputation in both the full and half marathon. Richard has represented Team GB several times since and in 2021 launched the Richard Whitehead Foundation to support and inspire disabled people through sport. We are honoured that he is our first Patron.
Sadly, Richard's friend, Simon, died of sarcoma but has been a constant inspiration on Richard's incredible journey from running his first marathon to becoming the marathon world record-holder for leg amputees and 200m Paralympic champion.
'I'd always dreamt of being able to run a marathon. I imagined the applause and support of the spectators and the feeling of crossing the finish line. But these were only dreams. Being an above the knee, double legged amputee, just being able to run at all was more realistic!
I was inspired as a youngster by a Canadian athlete called Terry Fox. Terry became a single legged amputee after a battle with osteosarcoma – a type of bone cancer. After losing his limb, Terry attempted to run from East to West of Canada. His strength and determination showed that with a big heart and the will to succeed you can overcome barriers put in front of you. So at the start of 2004 I entered the New York Marathon which would take place 11 months later. When I entered I had no running experience and had not even run one mile!
I wanted to run not just for myself, but I also wanted to raise money for lots of charities that had helped me whilst I was growing up. My decision was reinforced when a month before the race my close friend, Simon was diagnosed with chondrosarcoma – another type of bone cancer. Simon and Terry, having both been affected by sarcoma, became a major driving force and inspiration behind my run.
My training started in February 2004. I began running mainly on treadmills in my local gym. At that time I was running on my knees using sport cups. That's how I run when I don't have my prosthetic legs. I then built enough confidence to brave the open roads. Mainly running at night so as not to attract any attention, I began to experience the freedom of running outside. I was hooked. Like any other athlete at the beginning running was hard work and a gruelling experience. I was getting pains on top of other pains; at times I felt I was getting nowhere and was just running backwards. At that stage I could only run for about 30 minutes. Getting the strength and belief to run further was one of the biggest obstacles to overcome.
By the time summer arrived the most I had ever run was ten miles. The ten-mile runs destroyed me physically and mentally and the distance and heat had given me blisters the size of 50 pence pieces. This running was getting me down. With weeks to go before the marathon I hit rock bottom and didn't want to run. It was the strength that Simon showed me that I believe helped me get through those final weeks. Simon is with me in every race I run and every challenge I take up. I have been so lucky to have been great friends with Simon and I learnt so much from him. I still believed that I would complete the New York Marathon, even if it took me a week.
In the October, five weeks before the big race, I experienced a eureka moment. A fellow amputee heard about some special running legs that were available. After a little research I found the technology that could help to make my running dream a reality. But there was a problem: the price tag of £2,000 per leg had put them out of my reach. Disappointed, but still determined, I continued the gruelling training sessions on my knees using my sport cups still believing. Then out of the blue I received some fantastic news. Ossur, the company behind the running leg technology heard about my marathon challenge and donated two Flex-Run running feet.
With my local prosthetics helping to fit and make sockets for these feet it now seemed realistic that I would at least start a race!
With just 13 days to go before the New York Marathon my running legs were ready. These were my "saving grace" but time was running out. My prosthesist, very aware that I am a determined individual, advised me to take it easy and just wear these new flex runs around the house for the first couple of days. So I listened to his advice and then hit the road that evening running for just over two hours!
With just two days to go before the big day, I needed to push myself to breaking point, to find out how far I could run. So with some water, a banana and mobile phone I ran until I could run no more. I managed 18 miles, but I could no longer walk, I was feeling nauseous and extremely distressed thinking I would struggle to make the journey across the Atlantic, never mind the running a marathon.
"I am honoured to be Sarcoma UK's first ever Patron and hopefully I can pass on a message of hope through my dedication to sport and be an inspiration to the sarcoma community. I will use my role positively, to increase awareness of sarcoma cancer and have plans to fundraise to help Sarcoma UK achieve its objectives and pump even more money into sarcoma research."
On 7 November 2004, the New York Marathon had arrived at an early rise at 4.30 am and I began preparing for the start of the race at 8.30 am. My motivation in those hours before and during the race was that I wasn't going to let anyone down. I have a lot of self belief and was going to give it my best shot.
The race was an amazing experience. Fellow runners and spectators support took me to a different level. I was inspired by the warmth and camaraderie during the entire. It was an unbelievable experience. I finished the race in 5 hours 18 minutes and it was amazing. Thousands of people were pushing me to the finish line. Their words of encouragement and support pulled me into the finish line from 20 miles – 26 miles.
The feeling when I crossed the finish line was the best thing I have ever felt. The last mile was so emotional, my goal was in sight. I had achieved something that I never thought I could achieve. In 2006, I took part in the New York Marathon a second time specifically for Sarcoma UK, raising £5,500. I beat my previous time and ran in memory of Simon.
I wanted to run faster, longer and stronger with goals that reflect that. Over the years, I continued to run marathons, ultra marathons, and do coast-to-coast runs all over the world.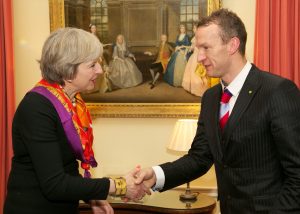 That was until I was told I was ineligible for the marathon in the greatest sporting event held in my own country: London 2012. The International Paralympic Committee (IPC) said that I wouldn't be able to compete in the marathon at the Paralympics as it is open only to arm amputee runners, and the classifications couldn't be mixed. I wrote a letter to the IPC criticising their decision; the organisation is supposed to promote equality. My issue with Paralympic sport has been that certain events are exclusively available to certain people with certain impairments. Sport is about choices and opportunities, not about categorisation and groupings.
Encountering yet another barrier, I focused my attention on the 200 metres.I won gold. I pointed to the sky and dedicated this to Simon. I came and saw and conquered. That's why I gave the two-gun salute at the end. I've got all the support around me and that is why I'm successful. Along with my mum, dad and girlfriend, Simon's widow, Nicky, and her two children were all in the stadium cheering me on.
Many people say that I am an inspiration. All I can say is that I am an athlete, who has been given the opportunity to run. Running is a sport that, due to advances in technology, I am now able to participate on a level playing field with my able-bodied counterparts.
If I could sum up everything I do, it would be what's tattooed on my right arm: cometh the hour, cometh the man.'
Follow Richard  on Twitter, Instagram, Facebook and his website.