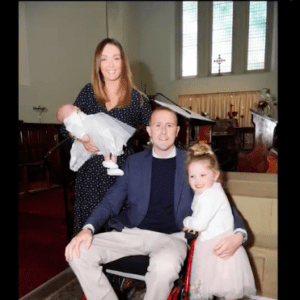 Having fought cancer twice before, the disease reoccurred in December 2018 and sadly Tom, at just 29 years old, died on 12th June 2019 from osteosarcoma.
Tom was a Manchester City mad, music obsessed, stone island collector, Daddy to two beautiful daughters aged just 3 and 8 weeks old and the best friend to so many.
Tom fought so hard during each cancer battle to beat the disease and wanted so much to be around to watch his girls grow up.
Unfortunately osteosarcoma is difficult to treat and conventional treatment of this disease has not progressed in over 20 years. As a result of that many young adults, like Tom, are losing their lives to this awful cancer.
Tom's friends- Luke, Jack, Ryan, Ashleigh, Fliss and his wife Kirsty, took part in the 2020/2021 London Marathon to raise vital funds for Sarcoma UK. "Tom was an amazing guy, kind, generous and full of life. He touched the lives of so many people and we hope that by raising money for Sarcoma UK, the team and Tom are able to help others in the future."