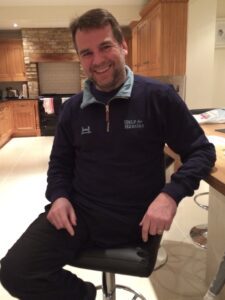 Peter was someone who embraced life, loved sport of all kinds and took part in many, football, rugby, skiing, golf, fishing, swimming and cycling.
He was also a family man and loved to spend time with his girls and extended family. Friends, family and colleagues have wanted to remember Peter by raising money for Sarcoma UK through taking part in different events. The Peter Thompson Golf Day is the main event of the fund's year, and is now in it's fifth year.  The day is supported by many of Peter's friends and colleagues from the Lloyds marketplace, organised by his friend Marc Frost.
Peter had a rare aggressive form of synovial sarcoma which as part of his treatment involved the amputation of his left leg and chemotherapy. He always maintained a positive outlook throughout his treatment that was inspiring to all those that loved, supported and cared for him.
We hope to raise money to raise  awareness and to fund research into finding treatments for this disease. Thank you to all those who have donated and raised money in Peter's memory.