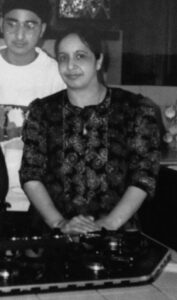 In November 1994, Parvinder Sawhney lost her short battle with cancer, she was diagnosed with a rare sarcoma earlier that year, she was 45 years old.
Parvinder left a devastated family, Jasbir her husband of 25 years, daughter Shareen 20 years of age and her son Sunjeet, 16 years of age.
Almost 20 years after her passing the family have decided to set up a fund in her honour to which they contribute annually to further the fantastic work that Sarcoma UK and its partners undertake for patients and families.
Sunjeet says, "Although  my mum will never meet her 3 grandsons, as a family this is a great way to keep her legacy on going for many years to come".
Sunjeet has dedicated his life to working in oncology for the last 15 years and will continue to do this for many years to come.