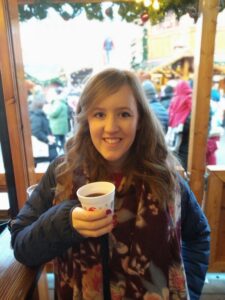 Before her diagnosis Becky was embarking on a promising career in public health improvement. She had completed her PhD at Strathclyde University, during which time she worked extensively to deliver health education within communities in rural Malawi, a country which she developed a great passion for.
She also held degrees in health psychology from Stirling and Glasgow universities and had successfully completed her chartership. She had just bought her first flat along with her husband Alasdair who she married the year before. She was a true people person, and was happiest when spending time with friends, family and in her church community.
Becky was diagnosed with Ewing's Sarcoma in February 2019. She endured 6 months of chemotherapy and major surgery to remove the tumour, but despite the incredible efforts of her team at The Beatson WSCC and Glasgow Royal Infirmary, the cancer reoccurred, and she passed away in October 2019 aged 28. Becky's grace and positivity throughout her treatment were an inspiration to everyone who knew her.
After this devastating loss, Becky's family hope her legacy can be to bring their community together to raise funds for the vital work of Sarcoma UK. Like so many sarcoma patients, Becky experienced difficulty obtaining a diagnosis, showing the importance of raising awareness. Sarcoma UK's contribution to research will also enable the advancement of treatments and options for patients in the future.
Becky will be remembered for her infectious smile and bubbly personality and she is sorely missed every day.
Take a look below at the Group Fund's fundraising activities and Facebook page: